GET A WILDLIFE LICENCE: You need a valid reason to apply for a wildlife licence.
UK planning and development law sets down the purposes for all protected species licences.
Carrying out activities prohibited under wildlife legislation means you will need a licence. That type of work includes activities which:
Applications should go to the relevant nature conservation body in your specific country. The information below explains how to apply. There is an online process through a Government Gateway.
You can also send a wildlife licence application by post using paper format. As a rule, there is no charge for this service by the relevant issuing body.
In most cases, they issue the wildlife permit within 15 to 30 days of receiving the application. They will also give an explanation if they decide to refuse the permit. Each particular application form will provide full guidance on carrying out the procedures.
There are three types of wildlife licence granted by the issuing bodies in the United Kingdom:
General Licence: Work involving a low risk to any protected animal or plant species.
Class Licence: Work requiring a specific skill or experience for species protection.
Individual Licence: Other types of work not covered in the general or class licences.
---
Apply for Single Wildlife License
As a rule, applying for a one-off wildlife licence is quicker by post or by email. But, the method of application depends on which of the different types of wildlife licence you need.
If you apply by post you should send the completed application along with any documents to:
Wildlife Licensing
Natural England
Horizon House
Deanery Road
Bristol BS1 5AH
Email: [email protected]
Telephone: 020 802 61089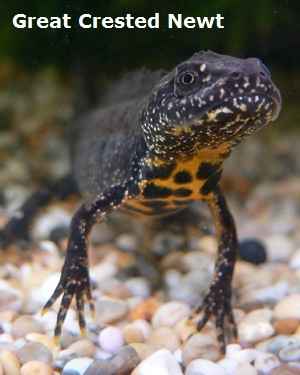 ---
Manage Regular Wildlife Licences
Members of the public can register to apply online for a class or individual type of licence. But, follow these 3 steps if already have a registration set up:
Sign in to your Government Gateway account and select case work management (CWM). This part of the service is case sensitive (upper and lower case letters).
Enter your unique customer reference number (include the letter C).
Enter the memorable information which you chose during the first registration set up.
Related News: Are 3 British Newts Obstructing House Builder Jobs?
---
Licences to Release Non-native Species into the Wild
As a rule, you will need a licence to release non-native wildlife and plants into the wild. If the animal, or plant, is on the list of prohibited species you must apply to Natural England for a licence to:
Grow a plant in the wild.
Release an animal into the wild.
Note: Further information on non-native species is available from the Non-native Species Secretariat.
To release non-native plants or wildlife in Scotland, Wales or Northern Ireland you should contact:
Scotland: Scottish National Heritage
Wales: Natural Resources Wales
Northern Ireland: Department of the Environment (DOE)
NIEA Wildlife Licence: The Northern Ireland Environment Agency issue wildlife licences in Northern Ireland.
---
Wildlife Licences for Protected Species in the United Kingdom