Saving Geological and Geographic Features
Several laws and national organisations help to keep rural landscapes and historic features protected in the United Kingdom, such as:
Designated planning policies and nationwide laws.
The rules for farmers and land managers who claim rural payments – called 'cross compliance'.
The Rural Development Programme for England (see below for further details about the RDPE).
Note: There are two separate funding schemes in operation that might help you meet the costs of protecting your land.
---
Applying for Funding
The GOV.UK website has further information on the type of funding schemes that you can apply for to help you protect rural landscapes and features. They include:
Basic Payment Scheme (BPS): The BPS is the biggest of the rural grants and payments and provides essential help to the farming industry. As a farmer, you would need to apply once a year (between the months of March and May) and the payments would start in December.
Countryside Stewardship: Several organisations offer financial rewards in return for good land management that is improving the quality of the environment.
Note: Changes to the Basic Payment Scheme (BPS), and in particular the lump sum exit scheme and delinked payments, will help farmers get through the agricultural transition period until 2027.
---
Cross Compliance Rules
Farmers or land managers who are claiming rural payments need to follow the rules of cross compliance to get funding from the European Union and the United Kingdom rural development schemes.
---
If You Have Dry Stone Walls
Stone walls are important features of the countryside (e.g. for stock management). As the name implies, there is no mortar or cement used in the construction of a dry stone wall.
As a result, if there are any dry stone walls on your land, you should check the condition at least once every year, and:
'Air' the wall by removing any vegetation. This will also help to prevent serious damage from winter frosts.
Make any necessary repairs (using local stone with the same or similar characteristics).
Take steps to prevent large trees from growing alongside the walls. In most cases, tree roots will weaken the foundations of small drystack walls.
Dry Stone Walling Association
Telephone: 01539 567 953
Website: www.dswa.org.uk
Learn about call charges
Note: Unless there is a specific reason for doing so you must not remove any of the stones from a dry stone wall.
---
BN12: Stone Wall Restoration
Farmers and land managers can apply for funding for dry stone walls (e.g. for restoration) from the Countryside Stewardship.
---
Countryside Hedgerows and Watercourses
In simple terms, a hedgerow forms a boundary line of bushes – usually in the countryside. Even so, demarcations can also include trees as part of the rural landmark.
Does your land have hedgerows or watercourses on it? If so, the law requires you to use 'reasonable' practices to keep any green cover (natural vegetation):
On land within one (1) metre of the top of the bank of a watercourse or a field ditch.
On land within two (2) metres of the centre of a hedgerow, watercourse, or a field ditch.
Note: Removing or destroying certain hedgerows without permission from the local planning authority is illegal.
Some of the other important rules that you must follow in relation to countryside hedgerows and watercourses include:
Not cutting or trimming hedgerows between the 1st of March and the 31st of August.
Not cultivating or applying fertilisers or pesticides on any strips of green cover.
Note: Information in another section explains some of the benefits of hedgerow management for wild animals and for the environment in the United Kingdom.
---
Managing Trees and Woodland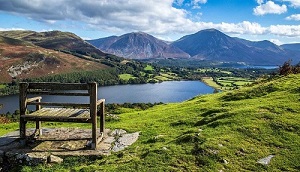 The Forestry Commission publishes guidance notes on managing woodlands and how to minimise damage to the wildlife that lives in the wooded areas of the United Kingdom.
---
Tree Felling and TPOs
You would need consent from the local planning authority (in writing) before causing the damage or destruction of any trees protected by a TPO (including uprooting, lopping, or topping).
Furthermore, the local planning authority (LPA) would require forty two (42) days of written notice before you cut down any tree that is growing in a conservation area.
In most cases, a tree felling licence (available from the Forestry Commission) would be needed to fell most trees. The purpose is to help protect the trees and woodland in Britain.
Note: Another section explains how to appeal a decision about a Tree Preservation Order or replacement order decision. You must also check with the local council before doing building work on homes in conservation areas.
---
Environmental Impact Assessment of Forestry Projects
You can check whether you need to get an Environmental Impact Assessment (EIA) before starting any woodland projects. But, an EIA would be required to:
Create new woodland (or permanently remove it).
Carry out forest road works.
Conduct forest-related quarrying projects.
Note: You may need to get an opinion or consent regarding a proposed forestry project before beginning the work.
---
Obtaining Funding for Woodlands
The Countryside Stewardship scheme (see details above) and the Woodland Carbon Fund make grants available for certain types of woodland projects.
---
Owners of a Scheduled Monument
Scheduled monuments are sites with legal protection, due to their historical importance. As a result, a scheduled monument can be (either):
An archaeological site (e.g. an ancient burial mound).
Recent remains (e.g. structures leftover from the coal industry or a relic of World War 2).
You are going to need permission from Historic England (in writing) before carrying out any work on a scheduled monument. In some cases, you would also need additional planning permission from your local council.
Note: Historic England produces a PDF guide that highlights the main provisions of the Ancient Monuments and Archaeological Areas Act 1979. It is useful reading for owners and occupiers of scheduled monuments.
---
Grants for Scheduled Monuments
Check to see if the Historic England grant scheme can help you to maintain, or pay for the costs of repairing, one of Britain's scheduled monuments.
---
Rural Development Programme for England
The RDPE makes money available to fund projects that are going to improve agricultural practices, the environment, or rural life. Hence, this type of funding goes to schemes that focus on:
Growing the rural economy.
Increasing productivity in the farming industry or in forestry.
Improving the environment.
Note: Some of the processes differ for the rural development programmes that run in Scotland (e.g. the SRDP), Wales, and in Northern Ireland.
---
Applying for RDPE Funding
As a rule, you will only qualify for funding from the Rural Development Programme for England if you are (any):
A farmer, grower, or a forester.
A business owner based in one of the rural areas.
Living in a rural community.
Managing land or woodland.
Running a food business.
Note: The GOV.UK website has more information on different funding schemes that are available through a variety of rural grants and payments.
RDPE Funding Post Brexit
Existing funding from RDPE (via the European Union) will continue until the project closes. Furthermore, the UK government continues to fund RDPE projects approved by the 31st of December 2020 until those particular projects end.
Note: Another section contains more information about planning permission for farms and farm buildings in the United Kingdom.
---
Safeguarding Rural Landscapes and Features in United Kingdom