What Happens at a Home Office Interview?
There are penalties for failing to attend an appointment. You will also need to take certain documents along with you.
So, remember to take your:
Immigration reporting paperwork (e.g. Bail 201).
Mobile phone (to show your SMS message to security personnel at the main entrance to the building).
To avoid security delays, you should only carry essential items needed for your appointment. Also, follow official guidance about travelling safely if you will use public transport to get to the appointment.
The reporting centre may also need some extra information about your situation. This can include your address and whether you have a dependant (e.g. a child or a family member).
Immigration reporting centres usually send a text message, email, or a letter. It will remind you about the time and place for the appointment.
Note: You can email [[email protected]] if you get a text message by mistake. Give them your name, phone number, and reference (if applicable).
---
Missing Home Office Appointments
If you miss your appointment, you will need to contact your caseworker within seven (7) days. There is also a contact number on your immigration paperwork. You should use that for reporting if you are unable to contact your caseworker.
Note: Failure to attend an appointment can result in a penalty. They may withdraw your asylum support (money and housing). In some cases, you may also get an unlimited fine, a six (6) month prison sentence, or a criminal record.
---
Immigration Reporting Centre Contact Number
There are fourteen immigration reporting centres listed throughout the United Kingdom. Check your immigration paperwork to see which reporting centre you need to attend.
Central London
Becket House
60-68 St Thomas Street
London
SE1 3QU
Email: [email protected]
West London
Eaton House
581 Staines Road
Hounslow
Middlesex
TW4 5DL
Email: [email protected]

East Midlands
10 South Street
Loughborough
Leicestershire
LE11 3EY
Email: [email protected]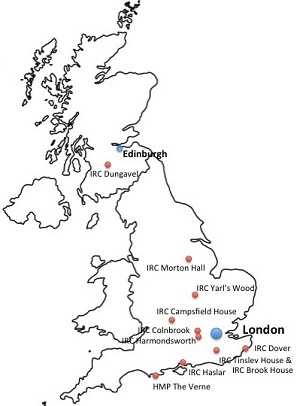 West Midlands
Sandford House
41 Homer Road
Solihull
West Midlands
B91 3QJ
Email: [email protected]
Merseyside
The Capital Building
Ground Floor
6 Union Street
Liverpool
L3 9PP
Email: [email protected]
South Yorkshire
South Yorkshire Reporting Centre
Vulcan House – Steel
6 Millsands
Sheffield
S3 8NU
Email: [email protected]
North East and Cumbria
Middlesbrough Reporting Centre
100 Russell Street
Middlesbrough
TS1 2AD
Email: [email protected]
Lancashire
Dallas Court
South Langworthy Road
Salford
M50 2GF
Email: [email protected]
---
Immigration Reporting Centres in Wales
General Buildings
Ground Floor
31-33 Newport Road
Cardiff
CF24 0AB
Email: [email protected]
---
Immigration Reporting Centre in Scotland
Festival Court 2
200 Brand Street
Glasgow
G51 1DH
Email: [email protected]
Scotland Police Station Reporting
Email: [email protected]

---
Immigration Reporting Centre in Northern Ireland
Drumkeen House
Drumkeen Complex
Upper Galwally
Belfast
BT8 6TB
Email:
[email protected]
---
---
Immigration Reporting Centre Contacts in the United Kingdom