STREET PARTIES: What are the rules for informing your local council to plan and hold a street party?
You may need to get insurance and licences for alcohol and music.
---
Small Events
The council lists several different types of events for regulating street parties. Some outdoor events and street parties on quiet streets do not affect the wider road network.
Councils count these types of street parties as small events. Apply to your local council if the neighbourhood street party will be a small event.
Note: Inform your council between four (4) and twelve (12) weeks before your street event takes place.
The specific information you should give to your council includes:
The planned date and time of the street party or small event.
The name of any road or road sections you want to close.
Is the road used by through traffic or part of a bus route?
A full list of any businesses or properties affected.
Whether you have consulted your neighbours or not.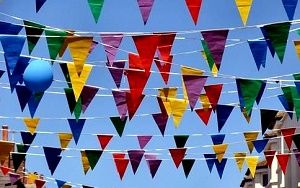 ---
Smaller Events
Council rules for street parties mean you do not need to inform your local authority if you hold a smaller event. So, how are smaller events classified?
For a variety of reasons, you may be unable, or unwilling to arrange a road closure. But you can still organise an informal 'street meet' for you and the neighbours. These smaller events tend to take place on a driveway, front garden, parking area, or in a cul-de-sac.
As a rule smaller events such as these does not need permission from the council because it is on private land. So, go ahead, pick the best outdoor spot in the street, and organise a friendly get-together.
---
Apply to Hold a Street Party
There is some basic information your council needs to know if you are organising a small street party. You should apply to hold a street party and check what details your local council needs.
---
Procedure for Closing a Road for an Event
If you want to close off a road you need permission from your local council. Many local councils lend out signs and cones for closing roads or you can download free road traffic signs to print.
What if your street party is on a bus route?
In this case the bus company will need to know the details ahead of your planned event. Some local councils will contact transport providers and the emergency services for you. But other regional authorities might expect you to inform them yourself.
Note: Ensure that emergency service vehicles can still access the street in case they need to.
---
Street Party Licence for Music and Alcohol
Alcohol and Food
You do not need a licence for alcohol if you provide free alcohol at your street party or event. But, you will need a licence to sell alcohol at a street party.
Selling alcohol at street parties requires a 'temporary events notice' and it costs £21. You can get a temporary events notice from your local council.
You can serve or sell food at an organised street party up to 11 pm without needing a licence. But, you should contact your council if you plan to serve or sell food after 11 pm.
As a rule you do not need a licence to give away alcoholic beverages as prizes. Organisers often like running a raffle or tombola at street parties.
It is not uncommon to give away a bottle of champagne for a winning raffle ticket. But there are special rules about what items can get given away as prizes. You should contact your area council for further information on street party prizes.
Raffles and Tombolas
UK gambling regulations do not apply providing:
Tombola or raffle tickets get sold on the day of the street party.
The value of the prizes is not more than £500 in total.
You should contact your local council if raffle tickets get sold in advance or prize value is more than £500. In this case you may need to register a raffle as a lottery.
Street Party Music Licence
When you are organising a street party you do not need a music licence for live or prerecorded music providing:
It is a private party organised for residents and neighbours.
You did not advertise the music to attract outsiders or to make money from the event.
---
Council Rules on Organising a Street Party in the United Kingdom