General UK Vaping Regulations and Policies
In recent years, we have seen an increasing trend of vaping and vape use in Britain and worldwide.
The increase follows a report issued by the Royal College of Physicians. RCP research triggered some changes in the UK vaping rules and policies.
The report suggests the effects of electronic cigarettes are less severe for the body. Thus, vaping could be up to 20 times less harmful than smoking tobacco products.
There can be little doubt that vaping electronic cigarettes has benefits for smokers trying to quit the habit. What's more, the mechanism of vapor production is a lot safer for bystanders to breathe.
Even so, issuing a blanket permission for using vape pens in the United Kingdom any time soon still seems to be unreasonable.
Here's the brutal truth about vaping rules:
There are some vaping restrictions already in place. They are present to help reduce the harm caused by potential allergies in e-vapor contents to adults – and particularly to minors.
In fact, the law prohibits anyone under the age of eighteen (18) from vaping in the United Kingdom. Advertising rules also have some notable restrictions. Models under the age of 25 (or who appear to be underage) must not participate in promotions for e-cigarettes.
The maximum permitted capacity of e-liquid containers also has certain restrictions and limitations of use. The containers must not exceed 10 ml and clearomizers and cartridges must not have a capacity larger than 2 ml.
The maximum permitted nicotine strength is 20%. The government obligates manufacturers to submit electronic cigarettes and vaporizers for approval before selling them to ensure the quality and the safety of the product.
Note: Legal repercussions await any attempt at advertising e-cig vape pens to children in the United Kingdom.
---
Rules on Vaping Indoors
Inside Hospitals
Almost all hospitals enforce a ban on vaping inside their buildings. They also treat vaporizers much the same as conventional cigarettes. So, it is not uncommon to see prohibited vaping signs in the grounds of hospitals too.
Each separate hospital instills their own rulings and does not cover all clinics. But, the last time we checked, this policy appears to be most widespread in Scotland.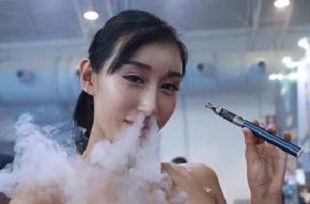 Pubs and Restaurants
Not all cafes, fast food restaurants, and pubs ban vaping altogether. The administrator would confirm what particular rules on vaping exist inside their establishment.
And what about the big chain restaurants, like KFC and Starbucks? At present, their vaping policies appear to be the same as those for smoking. Whereas, others make clear distinctions between the two different habits.
Note: We have more police questions and answers in another section. But, vapers are unlikely to face serious legal repercussions for breaking the vaping rule of one establishment.
Sports Stadiums and Music Venues
Strict restrictions are in place at many Premier League football stadiums, including Old Trafford, and Stamford Bridge. You will find differing rules and regulations in smaller grounds and in various concert halls and music venues.
---
Sports Stadiums and Music Venues
Strict restrictions are in place at many Premier League football stadiums, including Old Trafford, and Stamford Bridge. You will find differing rules and regulations in smaller grounds and in various concert halls and music venues.
So let's take a closer look:
The vast majority do not allow the use of e-cigarettes inside their buildings. But, some are more flexible on the regulations than others. There is no need to assume that a smoking ban will extend to a vaping ban in all cases.
You can find out for sure by researching the vaping policy for the location you will attend. Or, go ahead and check with a member of staff once you arrive.
National Exhibition Centre
The National Exhibition Centre in Birmingham is home to some of the biggest exhibitors. The NEC allows vapers unrestricted use of e-cigarettes indoors for two days during the Vaper Expo UK convention.
---
Vaping in the Workplace
Some of the rules on smoking in the workplace do not apply to vapers. Some companies regulate whether their employees can vape or not and whether there is a designated area for doing so.
As a rule, most companies with designated areas for smoking will also allow workers to use electronic cigarettes. But, it's best to avoid putting vapers and smokers in the same smoke zone when possible.
Put another way
When it comes to matters of public health, the recommendation is for companies to arrange a separate space for vapers. In fact, Public Health England also encourage people to use e-cigarettes instead of combustible tobacco products.
Vaping Rules Outside
In general, the same rules apply to outdoor locations as they do to spaces indoors. Thus, the property owner can determine whether to allow people to vape on their premises.
Vaping in Public Transport
There is no shortage of laws and regulations in the United Kingdom. Even so, none of the rules allow people to vape on trains and very few allow vaping on buses.
The restrictions also extend to train station platforms in the vast majority of cases. In case you were wondering, the London Underground prohibits all vaping activities.
A different section covers the most important flying rules and regulations in the UK. But, quite simply, vaping on planes is banned.
In the interest of safety, the transportation of electronic cigarettes must also follow special rules when traveling by plane.
It gets worse:
Note: Failing to comply with the regulations can result in a fine and a request for you to exit that particular mode of transport – without a refund.
UK Vaping Policy Overview
Generally, the United Kingdom promotes vaping as a safer alternative to the smoking of tobacco products. Public Health England also made that recommendation.
Recognising vaporizers as consumer products means they have very low taxes (compared to taxes on combustible cigarettes and other tobacco products).
As a rule, the property owner creates the vaping regulations for any given establishment. Hence, the rules tend to vary from one place to another. Even so, legislation forbids the use of e-cigarettes on buses, planes, and trains.
Note: The Health and Social Care Secretary announced that e-cigarettes could soon be prescribed on the NHS to help people in England stop smoking tobacco products. We will update this when further details become clear.
---
Vaping Rules in the United Kingdom