MAKING SOMEONE BANKRUPT UK: Learn what to do if someone owes you money and how to present a bankruptcy petition to the court.
Find out the fees to recover a debt from someone who owes you money.
Making someone bankrupt is one of the legal procedures with strong action for recovering money that a person owes to you.
In fact, the debtor can be another person or it can be a company.
---
Bankruptcy Petition and Fees
There may be alternative ways to recover your money other than making someone bankrupt. But, when you apply to make someone bankrupt, the court uses your petition to initiate the bankruptcy proceedings.
In most cases the court recovers the assets of your debtor. The assets may then get sold off to pay their debts.
Presenting and filing a bankruptcy petition to a court can be complex and costly. Unless you know how to make someone bankrupt in England it is advisable to get help from a solicitor or a law professional.
For example, the Insolvency Service can assist you in your court action and proceedings.
Note: A mediation service could find an agreement for you, saving some expense and time. Mediation occurs when an impartial person tries to help and solve a problem that exists between two opposing sides.
---
How to Present a Bankruptcy Petition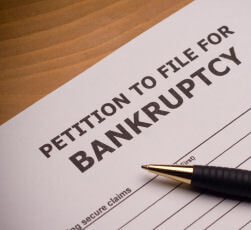 The bankruptcy petition procedure has three basic steps. Remember there will also be bankruptcy petition fees for creditors.
You must prove that someone owes you at least £5,000 (or a share of debts which total at least £5,000).
Check for other bankruptcy petitions against the debtor (person who owes you money).
Complete all the forms necessary and then deliver them to the most appropriate court.
---
Cost to Make Someone Bankrupt
There are set bankruptcy petition fees for creditors. You must pay court fees when you apply to make someone bankrupt in England and Wales. The costs include:
The petition deposit is £990 (this is for managing the bankruptcy).
The court costs are £302.
Note: You can pay the court fees for filing a bankruptcy petition using cash or postal order. Make any cheque payable to 'HM Courts and Tribunals Service'. Applying online means you can also pay by credit or debit card.
---
Provide Evidence of Money Owed to You
You must provide evidence to the court that you are owed at least £5,000 if you are going to apply to make someone bankrupt. Prove that someone owes you money by either of these two methods:
Confirm that you issued a statutory demand (a request for payment) to the debtor. You can achieve this by filling in a certificate of personal service form N215 (where the demand was 'served' as a hand-delivery). You might also use a substituted service (where you had to post the demand).
Provide a statement by a sheriff or bailiff showing that you obtained a court judgment for the money. It can also show that the sheriff or bailiff was unable to recover enough assets to pay the debt.
---
Check for other Bankruptcy Petition
The law states that you must check (perform a search) whether the debtor has received any other bankruptcy petitions in the past 18 months. Petitions are usually filed and presented in the area where the debtor lives.
Bankruptcy Petitions Presented in London
HM Revenue and Customs (HMRC) and other Government departments present all petitions in London. You can carry out 'searches' using the public computers at the Central London County Court. But it costs around £11 for 15 minutes to use one of the public computers.
Central London County Court (Bankruptcy)
Enquiries: 020 7947 6839
Mail: [email protected]
Monday to Friday: 9am to 5pm
Room 1.05 1st Floor, Thomas More Building
Royal Courts of Justice, Strand
London WC2A 2LL
DX: 44450 Strand
Note: Contact the court or tribunal if you have a disability and need help coming to a hearing. They can adjust the building facilities to meet your specific needs.
After You Have Carried Out the Searches (checks)
A written declaration confirms that you have carried out the searches. You can use the wording below but make sure you fill in the petition number and the correct name of the court where applicable. Follow this by attaching the declaration to your petition form.
Bankruptcy Petitions Presented Outside London
One of the regional county courts will advise you how to check for petitions for the area where the debtor lives if it is outside London.
Bankruptcy Search Declaration Example
I/we certify that I/we have conducted a search for petitions presented against the debtor in the period of 18 months ending today and that either:
No prior petitions have been presented in the said period which are still pending
A prior petition (Number……………) has been presented and is pending in the………… Court and we are issuing this petition at risk as to costs.
Signed…………………………………. Date………….
Support an Existing Petition or Bankruptcy Order
What if you determine there is already a petition or bankruptcy order filed? In this case it is less expensive to support an existing petition than presenting your own. You should notify the other petitioner using the contact details on the existing petition.
Note: You cannot continue with your petition if a bankruptcy order already exists. If so, you should register as a creditor in a bankruptcy or liquidation instead.
---
Apply for Bankruptcy Petition
There are different bankruptcy petition forms that you may need to fill in. The correct form depends on whether the debtor responded to a statutory demand (use Form Bank 1 if not). This also includes cases where the sheriff or bailiff were unable to recover enough assets to clear the debt. Use Form Bank 3 if not.
Note: You should also provide a 'statement of truth' which confirms the details of your petition. A solicitor can help ensure you meet all the legal requirements when filing and submitting a bankruptcy petition.
Presenting a Bankruptcy Petition
You should present a bankruptcy petition to one of the UK courts 'in person' along with these other documents:
A written declaration that you have carried out the searches.
Your statement of truth confirming the petition details.
Proof and evidence that someone owes you money (at least £5,000).
Your circumstances determine which court you should go to. You can submit a petition online if the debtor lives in London and owes you £50,000 or more – or has 'no fixed abode' (no fixed or regular address).
For other situations you should take your documents to the county court nearest to where the debtor lives or works.
After You Have Applied
After you apply you should then:
Deliver a copy of the petition to the debtor (called 'serving' a petition or 'serving notice').
Deliver a copy to the supervisor of the individual voluntary arrangement (IVA) if the debtor has an IVA.
Provide a certificate of service form N215 to the court confirming that the petition got served on the debtor in person.
You can ask the court for permission to serve notice another way. This could be by post if you are unable to serve the petition in person. A statement of truth confirms that you have used a 'substituted service'.
If the Debtor Owns a Business
In this case you should choose the court which is nearest to the debtor's business address. An exception could be if the address changed in the last 6 months and they have been at their home address for longer.
Note: You will need permission from the court to withdraw the petition. You may also need to provide a witness statement when you ask for a withdrawal.
At The Court Hearing
The court informs you where and when the petition is going to get heard (it will be at least 14 days after you served the petition to the debtor).
The debtor may oppose the petition by providing the court with a statement of truth. But, this must take place at least 5 days before the hearing.
You must list people that you want to appear and speak at your hearing. The debtor and a supervisor of an IVA can also appear and speak at the hearing. After the hearing the court can then issue any of the following actions:
After the Court Hearing
An Official Receiver at the Insolvency Service deals with the early stages of a bankruptcy case. As a rule, they will contact you within twelve (12) weeks of the date you made the bankruptcy order.
Appeals: What happens if your petition gets rejected? You can make an appeal. But you should check with the court where you made your petition for information on the process for making an appeal.
---
Making Someone Bankrupt UK Rules: How to Apply to Make Someone Bankrupt