Types of Insolvency in the United Kingdom
There are seven different types of individual or company insolvency:
Administration (e.g. administrator handles business operations)
Bankruptcy (called 'sequestration' in Scotland)
Company (or individual) voluntary arrangement
Debt relief order
Liquidation (e.g. assets sold off to pay creditors)
Receivership (often arranged by a single creditor (e.g. a bank))
Important: You can check if your employer is insolvent and get certain information about them, including the registered address, date of incorporation, and whether it has already been dissolved.
An employer becomes insolvent if they cannot pay their debts. As a result, if your employer is insolvent and does not ask you to continue working, they may:
Dismiss you from your job (e.g. make you redundant).
Transfer you to a new employer (e.g. if they can sell the business as a going concern).
As a rule, if the company you are working for goes insolvent your rights allow you to apply to the government in the United Kingdom for:
A redundancy payment.
Certain types of outstanding payments (e.g. bonuses or commissions owed to you, overtime worked, unpaid wages).
Holiday pay.
Statutory notice pay (e.g. the minimum legal notice money earned while working a notice period).
Furthermore, some employees may qualify for Jobseeker's Allowance and low income benefits after losing their job due to company insolvency.
Last time we checked:
It is important to apply for benefits after losing a job upon employer insolvency. Failing to do so may mean that you will receive less money in your statutory notice pay payment.
Note: An 'insolvency practitioner' is a person who deals with an insolvent employer. The rights of employees upon insolvency allow them to claim through an insolvency practitioner for money owed to them.
---
Employee Rights if Employer is Insolvent
The rights of workers differ depending on whether they are made redundant, kept in employment, or transferred to a new employer.
Even so, employers must carry out a consultation about the reasons for making the redundancies – and whether any alternatives exist. But, they are not required to consult 'directly' about it with their employees.
---
If You Get Made Redundant
Being dismissed from your job after employer insolvency means you are being made redundant. In cases such as these, either the 'insolvency practitioner' or the 'official receiver' must inform you how the dismissal affects your job and what you need to do next.
It is not uncommon for a business to experience more than one case of insolvency. Even so, workers would not be able to claim for outstanding payments due for periods between the day of the first insolvency and the day they got dismissed. This rule applies even if they were not aware of the previous insolvency.
But, you would be able to apply to the court for a compensation payment if you believe your employer did not consult you in the proper manner or it was an 'unfair dismissal'.
Note: You would receive the Insolvency Service Redundancy Payments Service RP1 factsheet along with a 'CN' case reference number to apply for money owed to you (e.g. holiday pay, unpaid wages).
Compensation Awards for Being Dismissed Unfairly
Dismissed employees can make a claim to the employment tribunal to get certain types of compensation, such as:
A 'basic award' (e.g. you got dismissed unfairly).
A 'protective award' (e.g. there was no redundancy consultation).
The claim would be made against the Secretary of State for Business, Energy and Industrial Strategy (BEIS) and 'the respondents' (e.g. the former employer).
---
If You Keep Working after Insolvency
Your employer might ask you to continue working even after they become insolvent. Being made redundant at a later date means you can still claim for redundancy pay and any other money owed to you.
But, you would not be able to make a claim for unpaid wages, holiday pay, commissions, or bonuses owed to you between the day of the insolvency and the day you got dismissed.
Being Transferred to a New Employer
If you get transferred before your former employer becomes insolvent you would not be able to claim any money from the government.
But, you would be able to apply for redundancy pay, statutory notice pay, and any outstanding payments if you get transferred after the insolvency occurs.
---
Monetary Entitlements after Employer Insolvency
If your employer is insolvent, the amount of money you can get would depend most on your age, how long you were employed, and any terms stated in your employment contract. Even so, there is an upper limit (payments are capped).
---
Entitlement to Redundancy Pay
As a rule, you would be entitled to receive redundancy pay if you had employee status, were made redundant, and were continuously employed by the insolvent business for at least two (2) years.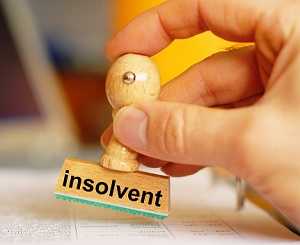 If so, you would get:
Half of one week's pay for each full year you were employed and under twenty two (22) years of age.
One week's pay for each full year you were employed and between the age of twenty two (22) and forty (40).
One and a half week's pay for each full year you were employed and at least forty one (41) years of age.
The current cap for redundancy payments is £571 a week (£544 for people made redundant before the 6th of April 2022).
The maximum number of years that you can get a payment for being employed at the business is twenty (20) years.
Note: You can calculate your statutory redundancy pay using your age, weekly pay, and the number of years you completed in the job.
---
Applying for Unpaid Wages
As long as it's included in your employment contract, you should be able to apply for unpaid wages and any other money that your employer owes you. Typical examples include bonuses, commission, and money for overtime worked.
The maximum eight (8) weeks of money you are owed would count as a week in cases where it is for only a few days (e.g. not a full week).
Getting unpaid wages (and other money owed to you) will be liable for income tax and National Insurance. But, you may be able to claim a tax refund if you paid too much.
Statutory Notice Pay Entitlement
Individuals who are made redundant will be entitled to get a paid notice period. This also applies in cases where it is not stated in the employment contract. So, statutory notice pay is for workers who did not work a notice period, or for those who worked:
Some of the notice period.
An unpaid notice period.
Note: The calculation for statutory notice pay in the United Kingdom is one (1) week of notice for every year of employment (up to a maximum of 12 weeks).
Getting Your Holiday Pay Paid
Holiday pay that employees can get back from an insolvent employer only include holiday days in the twelve (12) months before they became insolvent and represented as:
Holiday pay accrued (e.g. owed but not taken).
Holiday pay taken (e.g. taken but not paid for).
Missing Contributions to a Pension
You should contact the insolvency practitioner (or the official receiver) if any of your pension contributions are missing.
---
How to Apply for Owed Money
Employees who were a United Kingdom or EEA national (including foreign nationals with permission to work in the UK) will be eligible to apply for money they are owed.
You should apply for redundancy pay, holiday pay, and any unpaid wages within six (6) months of getting dismissed. The same application process also allows you to claim for loss of 'statutory notice pay'.
You will receive a letter containing further information if you requested to claim statutory notice pay.
Note: You would need to register as a creditor in a bankruptcy or liquidation instead if you do not qualify (e.g. you are classified as a contractor).
Claiming Redundancy and Unpaid Wages
You can make your application for redundancy, any unpaid wages, and holiday pay straight after you get made redundant. But, you need to apply for redundancy pay within six months of the dismissal.
The insolvency practitioner (or the official receiver) will supply you with a case reference number. You must have a 'CN' number to make a valid claim.
The application form gives you an option to claim statutory notice pay. Selecting 'Yes' does not mean you have actually applied. Instead, they will inform you when to apply.
Note: Another section explains how to claim for redundancy and money owed by an employer in further detail.
How to Claim Statutory Notice Pay
As a rule, you will get an 'LN' reference number within twelve (12) weeks of the end of your notice period. You will need this to make a valid claim. Remember, employees can have different notice periods even at the same business.
But, you must apply for redundancy (even if you not owed any money) before making a claim for a loss of notice pay.
Important: The government will deduct money you are getting through benefits claims (or those you could have claimed) from your payment.
---
Expert Help and Information
The rights of employees upon insolvency of the employer can get complicated. You may have some trouble getting payments from an insolvent employer. If this happens, employees can contact the Statutory Payment Disputes Team.
Statutory Payment Disputes Team
Telephone: 03000 560 630
Check the cost of call charges.
Insolvency Enquiry Line
Telephone: 0300 678 0015
Redundancy Payments Service
Email: [email protected]
Telephone: 0330 331 0020
Monday to Friday: 9am to 5pm
Note: You can also contact Acas 'Advisory, Conciliation and Arbitration Service'. They offer expert help and advice for people dealing with redundancy issues.
---
Employee Rights if Your Employer is Insolvent in United Kingdom