Car Breakdowns
The Highway Code has the answers in the vehicle breakdowns and incidents section.
The British Highway Code covers all the regulations for drivers breaking down on public roads. This section deals with car breakdowns.
It also lists the rules and safe procedures for handling roadside emergency incidents. Check through Highway Code rules 274 to 287.
Rule 274: The priority should always be considering the safety of all other road users. Find a way to warn other motorists because a broken down car or truck may endanger other traffic.
---
Vehicle Breakdown Procedure
If safe to do so, you should attempt to remove your vehicle from the road. This is especially important if it causes an obstruction for other road vehicles.
Hazard Warning Lights
Modern cars and trucks have hazard warning lights fitted. Switch on the hazard lights to alert other traffic of your broken down vehicle.
Make yourself as conspicuous as possible. You can achieve this by wearing a reflective or a fluorescent jacket. Wearing light-colored clothing at night time makes you easier to see in the darkness.
Vehicle Sidelights
Leave vehicle sidelights turned on during darkness or poor visibility. Never stand between oncoming traffic and your vehicle. Avoid standing directly in front of your vehicle's driving lights to help keep it visible to other road users.
---
Highway Code Warning Triangle Law
Is a warning triangle a legal requirement in the United Kingdom? All motor cars first registered from the 1st of July 2006 must carry at least one emergency reflective warning triangle by law.
If your car has broken down on a motorway how should you place your warning triangle? Place a Highway Code hazard triangle (or similar vehicle breakdown sign) on the same side of the road of any carriageway.
Note: A warning triangle distance from car should be at least 45 metres (147 feet) and placed behind the vehicle. Do not use a highway breakdown triangle if you encounter a broken down car on a motorway.
---
Motorway Emergency Car Breakdown Rules
Vehicle breakdowns while driving on motorways in the United Kingdom are very dangerous. What if you suspect your vehicle is developing a mechanical problem on a motorway?
Try to leave the motorway at the soonest available service area or motorway exit. If this is not possible, follow the proper procedures for emergency car breakdown on motorways.
Rule 275 to 278: You must obey all Highway Code extra motorway breakdown rules for driver and passenger safety. Be familiar with the list of recommendations for drivers.
---
Retrieving Highway Obstructions
Rule 279: If an object falls onto the highway from a vehicle you should stop your car when it is safe. Only attempt to retrieve the obstruction only if you can do so safely.
Removing Motorway Obstructions
Rule 280: You should not attempt to remove a motorway obstruction by yourself. The guidelines are to stop at the next available emergency telephone. That is where you can contact the Motorway Highways Agency or call 999 to inform the police.
---
Road Incident Rules: Highway Code Warning Signs
Rule 281: Police Officers and HA Traffic Officers display Highway Code warning signs. They also use rear-facing red and blue flashing lights while working in the carriageway. They use these Highway Code lights to make road users aware of a traffic incident ahead.
You should reduce your speed and prepare to stop your car if you see or hear emergency vehicles in the area.

You Must follow all Police or Traffic officers' directions for safe passing of an incident or road blockage.
Rule 282: You should pass the scene of an accident or a road crash without unwarranted distraction or slowing down.
Rule 283: What if you are actually involved in a traffic incident? Or you might stop your vehicle to render roadside emergency first aid assistance. In this case you should:
Activate your vehicle hazard warning lights.
Extinguish cigarettes and attempt to switch off vehicle engines.
Alert the emergency services. Give full details of any casualties and the location of the incident. Using emergency telephones on a motorway allows marker post location tracking by the emergency services.
Move anyone uninjured to safety and away from the vehicles.
Do not move anyone who has injuries unless they are in immediate danger. Follow the DRABC emergency first aid rules.
Unless it is necessary do not remove the crash helmet from an injured motorcyclist.
Consider whether you can safely administer first aid.
Do not abandon the vicinity or casualties until the emergency medical services (EMS) arrive.
---
Traffic Incidents Involving Dangerous Goods
Rule 284: Road vehicles carrying dangerous or hazardous goods must display vehicle marking signs or hazard warning plates.
Rule 285: Observe the following guidelines for incidents involving vehicles carrying dangerous goods:
Do Not Smoke and switch off all vehicle engines if safe to do so.
Keep away from potentially dangerous vehicles.
Contact the emergency services giving as much information as possible.
Pay attention to the warning labels and markings.
Do Not use a mobile phone near to a vehicle carrying flammable loads.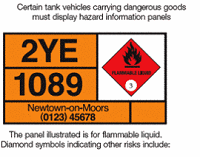 ---
Road Collisions: Required Documentation
Rule 286: If you get involved in a collision which causes damage or injury to any other person, vehicle, animal or property, you Must:
Stop your vehicle.
Supply your name and the vehicle owner's name and address (also applies if different than yours).
Rule 287: Give your vehicle registration number to anyone having reasonable grounds for requiring it.
Report all your details to the police within 24 hours (or sooner). You must do this if you do not give your name and address at the time of the collision.
Produce your vehicle insurance certificate to the police within seven days.
---
Highway Code Warning Signs
Note: The short video [10:05 seconds] explains how motorists must obey red warning triangles to avoid a fine and prosecution.
---
Highway Code Warning Signs for Road Incidents in United Kingdom