FLIGHTS WITH CHILDREN: The official airline rules for flying with kids and young ones are helpful for parents.
They cover the basic regulations such as allowable baby milk and child related carry-on items.
Even so, mums and dads can use as much help and advice as they can get. Entertaining your restless 'little one' at 30,000 feet for a few hours can test your powers of calmness.
---
10 Tips for Flying with Children
This researched comes from the feedback of actual parents. We ruled these top tips in no particular order. They are the ten principles most likely to ensure a stress free plane journey if you are taking your little darlings on a flight across the skies.
---
1. The 'Tricky Airplane Police'
You might feel like you are tricking a young child by warning them about the 'Airplane Police'. Even so, letting them believe naughty children will not be allowed to fly is a neat trick.
Of course, there is no suggestion that you scare them. But, it is a tip that many mums reported as 'hugely' effective. It stopped their toddler climbing over plane seats and kicking the seat in front.
---
2. Plane Luggage for Kids
They may appear a little overpriced. But, your child can happily propel themselves around while sitting on top of the case.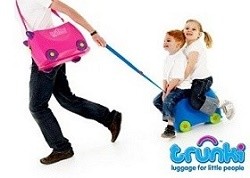 They may appear a little overpriced but your child can happily propel themselves around while sitting on top of the case.
The strap allows you to pull your child along to the departure gate if it is a long your walk. That saves their tired legs and your tired arms. As far as we know there is no remote control version at the moment.
But, ride-on luggage for kiddies is definitely sliding onto the market.
---
3. 'Child Size' Flight Plan
As a rule, you most likely need a dozen 15 minute activities to keep young kids entertained for the average short haul flight. The first and last 15 minutes is easy entertainment for tots and toddlers. Not least because you can keep them looking out the window for take-off and landing.
How do you fill up other 15 minute activity flight plans? Take your kid's favourite story book, coloring and drawing slots, toddlers' card games, snack breaks. There may even be some sleep time included 'hopefully'. It is always better to plan for too many activities than not enough.
---
4. Portable Entertainment
The overruling tip that all parents seemed to agree on was investing in some sort of video or tech gadget to keep your children or nipper occupied. That means a portable DVD player or a tablet computer.
DVD players are more bulky and you need to carry a set of DVDs to go with them. Tablets are much smaller with limited storage space for videos. Thus, you have to make sure to download all the videos before getting on board.
Kiddie cartoons and animated movies help to eat away a sizeable chunk of the flight time. That may benefit the parents with some invaluable downtime too.
---
5. Download Games for Tots
Downloading some kid-friendly games or apps to your smartphone or tablet before you board is a good tip. But, make sure to switch your device to Airplane mode for the flight. Some of the most popular ones to come out on top of the 'tips rule guide' rating were Bubbles, Toddler Cars, and Peppa Pig Happy Mrs Chicken.
---
6. Prepare a few Gifts
To coincide with your 15 minute flight plan tip, why not wrap up a few small toys as well? You can present them as gifts and a rewarding treat for being well behaved kiddies. There is no need to be too extravagant.
But, opening a present every half hour or so, such as a snack, soft animal, or a sticker, adds to your toddler's list of amusements.
---
7. Stick with Stickers
Stickers rarely fail to keep small children entertained – for a while. Supply them with an empty water bottle to decorate, or some scrap paper. You may end up having to unpeel the stickers from the back of the seat in front. But, that is a small price to pay for another 15 minutes of peace while flying with children.
---
8. Be a Sweet Mom
These are the top ten tips for parents flying with small children. But, landing at airports can cause painful ears for toddlers. Give your child a lollypop (sugar free is best) for take-off and landing. The sucking sensation helps to clear their ears. It may also distract the scary plane noise and movements.
---
9. Chewy Snacks Last Longer
Healthy snacks like raisins, strawberries, grapes and cherry tomatoes are easy to deal with and fun to eat. Sweets can be a useful bribe. But, trying to keep a child calm after eating an excessive amount of sugar can present its own challenge too.
---
10. Pack a Pillow
The final tip for parents taking small children on flights is a simple one to fix. Pack a pillow for tots to sit on so they can see out of the window better. Older children may also sleep more comfortable with a pillow. A tiny blanket is a 'must have accessory' in case your child gets cold on-board the aircraft.
Flight Tip: Foods that take longer to eat occupy small children for a longer period of time.
---
Flying with Small Children Tips for the United Kingdom