THE CHAMPIONSHIPS, WIMBLEDON: It is, without any doubt, one of the most thrilling and watched tennis events of the year.
As a rule, the grass court drama begins in the last week of June [BST]. The gripping entertainment will then continue for two full weeks.
There is no shortage of snippets, fun facts, yarns, and anecdotal rules on the world famous event.
Wimbledon tennis rules take place at the end of June – which happens to be the height of British Summer Time. But, in fact, the tournament is often remembered for the rain instead – lots of rain!
Yes it's that jubilant time of year when ardent tennis fans gather in London SW19. For two whole weeks, spectator chatter focuses on cross-court volleys, rallies, and love!
Not to mention the Grand Slam event, Sir Cliff Richard [OBE], strawberries and cream, and the wet weather. Did we mention the rain by the way?
---
Interesting Facts about Wimbledon Tennis
So, read on for all the interesting questions with answers on the major tennis title played in London. Some of the tennis facts and rules below are specific to the racket game itself. Whereas, others relate only to the Grand Slam tournament.
---
1. When did Wimbledon First Start?
The tournament first began in 1877 hosted by the All England Lawn Tennis and Croquet Club. The AELTC venue is the only tennis major played on grass courts.
In fact, most followers regard the Wimbledon Tennis Championship as the oldest tennis tournament. The majority of its fans and supporters would also say the most famous too.
---
2. Where is Wimbledon Tennis Played?
The premier professional tennis tournament takes place at the All England Club in Church Rd, Wimbledon, London SW19 5AE.
---
3. What are Wimbledon Clothing Rules?
Player dress code in the Wimbledon Championship is strict and unique. There is some clear leniency with style and design. But, all tennis clothing must adhere to the Grand Slam rules and regulations.
Wimbledon facts for dress code apply most to sweaters and tracksuits. Players must follow Wimbledon clothing rules during all court matches and practice sessions.
Competitors must dress in suitable tennis attire. It must be almost 'entirely' white (not off white or cream). Wimbledon clothing rules do not even allow solid mass or panel of colouring.
Shirts, dresses, tracksuit tops or sweaters must have a back material which is 'totally' white.
Caps, headbands, bandanas, wristbands, and socks must be completely white. Can you see a trend here?
Logos and certain accessories (such as wrist and headbands) are usually permitted. Exceptions would be when formed by variations of material or patterns.
Shorts, skirts, tracksuit bottoms, shoes (including soles) must be completely white. Wimbledon tennis rules and regulations allow a single trim of colour down the outside seam. But any trim must be no wider than one centimetre.
Wimbledon dress code does not allow shoes with pimples around the outside of the toes. Any foxing showing around the toe area must be smooth.
All visible undergarments (even if due to perspiration) must be completely white. Yes, you've guessed it. They allow a single trim of colour to ladies' knickers, but no wider than one centimetre.
Medical supports and equipment should be white if possible. They may allow the use of coloured medical items when it is necessary.
Note: Wimbledon rules and regulations demand a display of common standards of decency at all times on court.
---
4. When is Wimbledon Day of Rest?
As a rule, Wimbledon tennis rules designate the middle Sunday of the Wimbledon two week schedule as a day of rest. It provides match players with an opportunity to recuperate on the day of rest.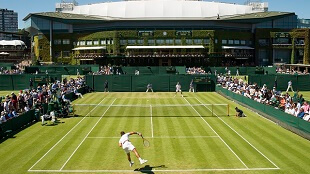 No games take place on the Sunday at the end of the first week, except for unusual or extreme circumstances. Like heavy rain, for example.
The most notable interruption to the day of rest is the British weather. If rain delays early round games – and it often does – matches sometimes get played on the middle Sunday.
Note: Centre Court now has a retractable roof to avoid rain delays.
5. How many Tennis Balls are used at Wimbledon?
Every year, Slazenger (a British sporting goods manufacturer) will supply well over 50,000 tennis balls for the Wimbledon Tennis Championship. They estimate that the players use 30% of the balls in the qualifying matches and in the practice sessions.
In fact, in preparation of the games, every single tennis ball is hand tested 'individually'. Each ball must meet the equipment rules and regulations of tennis for compression, weight, and most importantly, bounce.
6. How many Tennis Courts are at Wimbledon?
There are a total of 19 grass courts, including the Centre Court and the No.1 Court. Wimbledon facts can also boast eight American Clay courts and five indoor courts. These consist of three Greenset Trophy and two Greenset Velvelux.
---
7. What is Wimbledon Grass Height?
Wimbledon grass court maintenance is like no other in the game. It is the only Grand Slam event played on grass courts. The lawns, sown with 100% perennial ryegrass, receive year-round care. Even so, they get cut to an exact height of 8 mm during a championship.
8. What is the 'No Fifth Set Tiebreaker' Rule?
Wimbledon tie break rules continue to adhere to a 'no fifth set tiebreaker rules' regulation. The tennis tiebreaker rules are usually used in all major tournaments (except the U.S. Open). The 5th set rules allow players to stay on serve instead of heading to a tiebreaker at 6-6 at the end of the fifth set decider.
---
9. Final Set Tie-breaks
First starting in 2020, the new rules on tie-breaks will apply at 12-12 in the final set of a Wimbledon match. The first player (or team) to reach seven points with an advantage of two or more points will be the winner.
Wimbledon final set tie-breaks apply to all events (e.g. qualifying, men's, women's, mixed as well as junior singles and doubles).
Fun Facts about Wimbledon: What was the longest tennis match at Wimbledon?
The epic, and longest tennis match in history was a first round match during Wimbledon 2010. It took place between American John Isner and French player Nicholas Mahut. After an incredible 11 hours and five minutes it finally ended at a score of 70-68 in the fifth set.
10. How much is Strawberries and Cream at Wimbledon?
English tennis fans, who are also lovers of strawberries and fresh cream, will be hoping for a special price serving this year at Wimbledon. That's because punnets are not cheap.
Wimbledon Facts: You should expect to pay up to £3.00 for a punnet of strawberries with fresh cream.
Talking of interesting and fun facts about Wimbledon tennis! On each day of the two week gathering, around 8,500 punnets of strawberries get eaten. That is a staggering 100,000+ servings and a revenue of £350,000+ in sales!
---
11. Who has Won the most Wimbledon Men's Titles?
At the time of writing, Roger Federer is the male tennis player who has won most Wimbledon titles. He currently has a record breaking eight (8) Wimbledon titles.
12. What Time is the Men's Wimbledon Final?
As a rule, the gates and grounds open up at 10.30am and usually close at 11pm. Play on No. 1 Court usually starts at 1pm for all 13 days. That means you have a few hours to get up to speed with some tennis terminology used in the game. The start times for the first 11 days is 1pm on the Centre Court and starting at 2pm for the Finals' Weekend.
---
13. Why is Wimbledon not called the British Open?
A tournament titled as an 'Open' is usually for Association of Tennis Professionals events. Wimbledon is not an official ATP event. As these facts about Wimbledon already show, it existed long before the founding of the ATP organisation.
14. What is the Fastest Serve Recorded at Wimbledon?
The US player Taylor Dent holds the record for fastest men's serve at Wimbledon. Officials clocked the tennis ball traveling at a staggering 238 kph.
The American Venus Williams holds a similar record for the fastest women's serve. She used her powerful arms to smash a tennis ball around 205 kph.
---
15. What is the Role of Wimbledon Ballboys and Ballgirls?
It's a tough job keeping track of all those fast-flying tennis balls, but young boys and young girls do it! In fact, it takes around 250 ball boys and ball girls to complete the task
In preparation, the 'BBGs' go through intense training sessions a few months before the event takes place.
---
New Wimbledon Rules on Injury Retirements
The organisers announced new rules for players who pull out mid-match knowing they were carrying an injury. The official warning, in June 2020, states that:
"Any player who competes in the first-round main draw singles and then retires or performs below professional standards, may be subject to a fine of up to first-round prize money".
---
Wimbledon Rules and Regulations: FAQ and Fun Facts about Wimbledon Tennis