RUGBY EQUIPMENT: Get familiar with all the rugby equipment list. The protective gear and clothing used in the game runs from gum shields to boots and safety headgear.
---
01. Rugby Head Gear
Players have used safety headgear in the game for many years. The most vulnerable rugby playing positions are prone to bumps and barges. The loosehead props and full-backs tend to suffer most jostling.
Nowadays, players must wear specific head equipment to reduce concussions. It follows a stringent law change for the professional game back in 1995.
Since the year 2000, the International Rugby Board oversees and sets the approvals for using any form shielding for the skull. After all, the IRB is the game's outright governing body for the rules of rugby union.
Rugby headgear is usually made from light synthetic materials. They are capable of absorbing serious impact. Front row forwards use it to prevent severe blows to the head and reduce injury to their ears.
Forward positions are particularly vulnerable to receiving damage during scrums and mauls. Caps and head wear protection should be functional as well as comfortable. It helps to guard the player against unwanted pain and suffering.
Rugby teams have been wearing upper body (torso) protection for more than 20 years. Body equipment protects the chest and shoulders from common impact injuries. These are most prevalent during the crushing tackles.
Most modern equipment for chest protection is strong and lightweight. That is because comfort is also in important factor. Wearing head and body protection does not make you invincible. But, it certainly reduces the risk of serious harm.
---
02. Rugby Gum Shield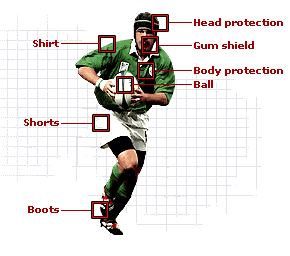 Gum shields for rugby help to reduce jaw injuries, a concussion, and protect a player's teeth and gums. The rugby gum shield, or mouthguard, is one of the most important pieces of equipment for rugby.
Even so, it is not one you would usually share with your teammates!
As a rule, rugby gum shields and mouthguards are individually moulded by a dentist. The mold them to fit inside the top half of the mouth.
The cheapest gum shield is the 'boil in the bag' version. It moulds to your mouth using hot water to soften the material, after which you suck on it for a few minutes.
---
3. Rugby Shirts and Shorts
The best shirts and shorts are strong, figure-hugging, lightweight, and comfortable. The shirt and shorts will need to withstand lots of pulling and tugging.
Modern rugby shirts are water-resistant jerseys. Manufacturers make them from synthetic fibres. They have replaced the old traditional cotton jersey shirt. The older types had a tendency to become heavy during a rainy match.
The benefit of wearing rugby clothing applies for school training as much as the big game. The fit should be snug enough to avoid getting ripped but not too big and baggy.
Otherwise, your attire becomes an easy target to pull you back during the tackles. But, unlike the American Football equipment list there is no extra padding worn by rugby union players.
The leading shirt manufacturers use materials which snap back to your skin if your opponent tries to grab your jersey. If your playing position is one of the five rugby forwards, your shirt will commonly have panels for your team-mates to grab onto in the scrum.
---
04. Rugby Boots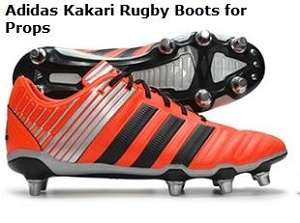 Traditional rugby boots are similar in some ways to soccer equipment.
The main difference is that rugby footwear tends to have a high cut design around to the ankle for extra support.
Conversely, by and large football boots have a low cut design for extra mobility.
Yet, an increasing number of rugby players, especially backs, actually prefer to use football style footwear.
The important point we make is that before you choose what kind of boots to buy you should also consider what position you will play most of the time.
---
Rugby Boots for Props
The Adidas Kakari was specifically designed for tight-forwards. They soon became accepted as one of the world's leading rugby boots for props. The boots get built with six studs at the front and two fixed at the back. That provides players with optimal traction when they are pushing hard in the scrums.
By comparison, the Mizuno Timaru MID is another favorite with the pro players. These heavy-duty high cut rugby boots are seldom ignored by those who remember getting caught with a stray metal toe cap. High cut rugby boots could be the best choice if you need ankle support and long-lasting footwear.
---
05. Rugby Balls
Using modern technology, rugby balls are now made from much better quality materials than the olden days. Balls were originally made of hand-stitched leather. That became amazingly heavy during wet and rainy games. The ball became cumbersome to handle and slippery.
Present-day balls get made from waterproof materials. That improves the player's overall handling and kicking skills, especially on muddy pitches.
---
Protective Rugby Equipment: Rugby Gear List used in the United Kingdom