UK DEATH REGISTER: You must be one of the approved organisations to get a weekly list of UK registered deaths.
You would also need to meet the strict eligibility criteria to gain access to death registration information (DDRI).
The information is 'sensitive' material and can only be used to assist the:
Detection of offences
Investigation of offences
Prevention of offences
Prosecution of offences
Note: The annual fee to get access to DDRI data is £57,000 which needs paying quarterly and in advance.
---
Information Provided on DDRI Lists
The United Kingdom disclosure of death registration information lists include certain information about deceased persons, including their:
Name (or alias if used and entered onto the registration)
Date of birth
Date of death
Place of birth (when held)
Usual address with postcode
Sex
Maiden name (when held)
Note: Organisations that apply for disclosure of death registration information must explain how they will use it.
---
Applying for a List of Death Registration
Check the application form to see if you qualify as one of the approved organisations (or part of).
Fill in the form and email it to the Fraud and Data Unit, Her Majesty's Passport Office (HMPO).
Fraud and Data Unit (HMPO)
Email: [email protected]
Note: Only a very limited number of organisations will get Fraud and Data Unit approval to use the DDRI service.
---
Existing DDRI Customers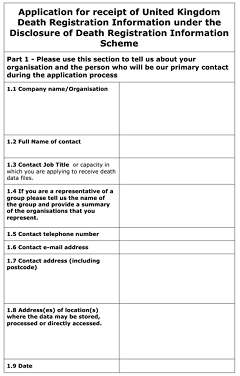 The current list of existing disclosure of death registration information customers includes:
Capita Pension Solutions Limited
CIFAS
Diligenta Limited
Equifax Plc
Equiniti Data Limited
Experian Limited
GB Group Plc
Mortality Manifest Limited
Synectics Solutions Limited
Tracesmart Limited trading as LexisNexis
TransUnion
What Happens after DDRI Application?
The Fraud and Data Unit will carry out some checks after you have applied. They will determine whether you meet the eligible criteria. The HMPO department may also contact you for further information about the application.
The security assessment conducted by the Fraud and Data Unit will include a visit to your premises. There will be a non refundable fee to pay for the appraisal (currently £5,000). They would then draw up the licence agreements and agree them with you.
---
DDRI Data for Scotland or Northern Ireland
The standard death registration information provides data for the whole of the United Kingdom. You should send an email to the following addresses for specific information in Scotland or in Northern Ireland.
Scotland
Email: [email protected]
Northern Ireland
Email: [email protected]
---
How to Apply for a List of Deaths Registered in United Kingdom