Your Consumer Rights are Not 'Automatic'
As with many older properties, certain parts of roof coverings will need replacing or repairing as they wear and decay.
Even so, property owners do not always have automatic rights for replacing or renewing the slates or materials used for roofing.
The work is often subject to Building Regulations approval and you may need to get planning permission from your local council.
This is especially true if external work would change the appearance of the property. In most cases, replacement of roof tiles should be 'like-for-like'.
For example:
The restrictions generally mean that you must use tiles, thatching, or slates that are the same colour, weight, and style. Hence, the buildings must remain in-keeping with the local area.
Furthermore, properties housed in conservation areas and listed buildings are all subject to restrictive planning laws and stringent regulations.
---
Planning Authority Enforcement
Most planning authorities will enforce some control on property renovations and repairs. It happens most when changing roof tiles (e.g. colour or style) will affect the final appearance.
Owners of listed buildings must make a formal planning application. They would also need to receive an approval before undertaking any roofing or re-roofing work on the property.
Under the Town and Country Planning Order 1995, planning authorities also have the power to restrict permitted development rights by issuing 'Article 4 directions'.
Note: Another section explains how to appeal a listed building consent decision by a local planning authority in the United Kingdom.
---
Replacing Flat Roof Tiles
Certain circumstances allow the owner to carry out roof tile replacement without planning permission. But, some rights would be withdrawn in cases such as these.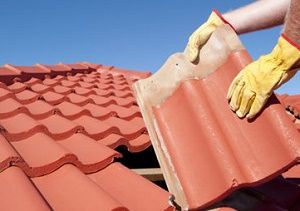 The property owner would then need to seek approval from the relevant planning authority before any re-roofing or alterations take place.
Repairing or replacing materials on flat roofs does not always need an application for approval under the Building Regulations.
But, there could be issues if you need to replace integral insulation. In this case, the 'thermal element' of the structure may need upgrading.
The aim is to reduce the amount of heat lost from the original insulation during the new upgrade.
---
Replacing Pitch Roof Coverings
Existing roof coverings sometimes get replaced with a different material than the original. An example would be replacing a slate roof with concrete tiles.
In this case, approval under the Building Regulations could be a requirement. One reason is to ensure that the replacement roof will be adequate in structural stability.
It is most applicable where replacement tiling would be a lot lighter or heavier than the original covering. This could mean making some modification and strengthening to the roof structure.
Moreover, it also helps to ensure that the new house roof is going to meet the UK rules of fire safety and energy efficiency.
---
Energy Efficiency
The roof of any building is actually defined as a 'thermal element'. Thus, any work carried out to re-cover a roof should also include making reasonable improvements to its thermal insulation properties.
Note: Another section contains more information about consumer protection rights (e.g. when buying goods and services) in the United Kingdom.
---
Do I Need Planning Permission?
This flowchart explains how to check whether you need to get roofing planning permission before you change the colour or style of roof tiles.
Are you:
Changing the roof style (e.g. height or pitch)? If yes, you would need planning permission.
Adding roof lights or skylights? If yes, you would need to submit a building regulations application.
Removing or replacing more than 25% of the roof area (or installing solar panels)? If yes, you would need to submit a building regulations application.
---
Related Help Guides
Articles about Home and Family Life: News stories about rules for homes and lifestyle regulations.
Building Regulations for Homeowners: The new UK Construction Design and Management rules.
Rules on Trimming Overhanging Trees: Regulations for cutting your neighbour's encroaching tree.
Note: The short video explains how to replace roof tiles, including a nailed tile and interlocking roof tiles used in the United Kingdom.
---
Getting Planning Permission to Change Roof Tiles in United Kingdom