The primary goals of the School Sport and Activity Action Plan will target:
A raft of new measures to help strengthen the role of sport and physical activities within the daily routine of youngsters.
How school teachers and parents can play an important role in helping kids lead a healthy life.
Promoting a joined-up approach to the importance and relationship between physical activity and mental well-being.
A recent report suggests the current levels of inactivity for children are alarming. It shows 32.9% of children and young people perform less than half an hour of activity per day.
The action plan offers children easier access to participate in a full 60 minutes of sport and physical activity every day.
Much of which will take place during the time kids spend getting a school education. But, they will also extend it outside the national curriculum – such as at weekends and during the holiday periods.
---
New Education Inspection Framework (EIF)
Ofsted's new Education inspection framework sets out the principles and judgements their inspectors make. The EIF takes full effect from September in 2019. In response, HM Chief Inspector of Education reiterated:
"Most schools offer children a broad and balanced education. They also offer a range of opportunities to get active during school days and through extracurricular activities. The new Ofsted inspection regime will reward those that do."
Note: The School Sport and Activity Action Plan only applies to England. Education, health, and grassroots sport policy is devolved in Wales, Scotland, and in Northern Ireland.
---
Launching Regional Pilots
The ambition of the government's action plan will revolve around three overarching objectives:
All children and young people take part in at least 60 minutes of physical activity every day.
Children and young people have the opportunity to realise developmental, character-building experiences through sport, competition, and active pursuits.
All sport and physical activity provision for children and young people is designed around the principles of physical literacy, focuses on fun and enjoyment, and aims to reach the least active.
The Government has already committed funds to launch a series of regional pilots. The innovative approach will trial how children respond to getting more active. In particular, the trials will focus on less active groups such as girls and youngsters from disadvantaged backgrounds.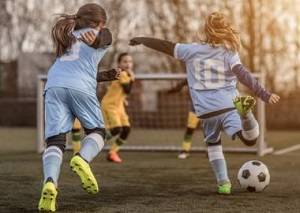 The regional pilots means schools and sports clubs can work together to share their training facilities and their expertise.
Doing so will give more pupils access to volunteering activities as well as character-building competitive sport.
The focus should ensure that boys and girls get an equal and coordinated offer of joining in a rage of different sports. It will combine modern PE lessons and easier access to high-quality clubs and competitions out of normal school hours.
The Department for Education (DfE) and the Department for Digital, Culture, Media and Sport (through Sport England) will joint-fund the pilots and activities. The expectation is that the first regional trial will kick off from September 2020.
Note: The UK Government will publish further details on the activities and actions in the Sport and Activity Action Plan later in the year.
---
UK Government Announces the School Sport and Activity Action Plan