Lowering Bills by Selling Surplus Energy
The law change relates to new solar homes and to 'clean' businesses that create and export electricity to the grid.
In essence, it gives solar households the right to sell renewable energy back to the suppliers.
What's more, they will be able to receive 'guaranteed payments' from the biggest energy companies in the United Kingdom.
So, how can homeowners lower their energy bills? One way is to install new rooftop solar panels. Doing so, from the 1st of January 2020, means you will be able to sell off any excess renewable energy.
The new initiative to provide guaranteed payments comes from Smart Export Guarantee (SEG). They will enforce a legal obligation for most energy suppliers to bid for electricity.
It ensures a minimum amount of money for small-scale electricity generators with solar, wind, or other renewable generation with a capacity up to 5MW.
Note: Smart meters will track each unit exported by any households that are selling electricity back to the grid.
In fact, the price of residential solar panels has become 50% cheaper in the last ten years. Thus, SEG is building on a previous subsidy scheme of small-scale renewable projects.
The primary aim is to make energy suppliers bid 'competitively' for electricity. Doing so provides an opportunity for households to get the best market price for their excess energy.
Note: It also provides the local grid with a steady supply of clean, green energy. The likes of which is important for the United Kingdom as it bids to become a net zero emissions economy.
---
The Future of Energy is Local
The Minister of State for Energy and Clean Growth explained more about the process of selling renewable energy back to the grid in the United Kingdom. He said "the future of energy is local".
The new smart export guarantee is meant to help green energy generators. It will ensure solar households get a guaranteed amount for the surplus electricity that they sell.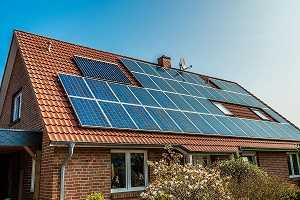 In fact, some suppliers (e.g. Octopus, and Bulb) already offer competitive export tariffs that are helping households reduce their energy bills.
Even so, there are other schemes waiting in the pipeline. They will also promote and boost further innovation in the energy market.
The UK Government wants more homes and green businesses generating renewable and low-carbon electricity. One way is to encourage small-scale generation without adding notable increases to consumer bills.
Here's how it works:
The Smart Export Guarantee system replaces the void left by the Export Tariff (which is no longer functioning). The new SEG scheme allows the owners of solar PV (photovoltaics) to continue earning fixed amounts from their solar system.
From January 2020, a legal obligation from SEG means energy suppliers that have more than 150,000 customers need to introduce export tariffs. That covers over 90% of the retail market.
At its peak (May 2017), solar provided more than 25% of the energy demands for United Kingdom. Nonetheless, it wasn't good news for all solar panel owners. Some were away from home and unable to reap the benefits on many of the UK's sunniest days.
Permitted Development (PD) Rights
The UK Government announced a permanent extension to the permitted development rights. So, what are the changes to permitted development and how much can you extend a house without planning?
Note: The new rules, that guarantees a payment for solar homes providing excess electricity, will allow them to earn money by generating it for the grid. For example, Octopus is already making offers to buy back solar power from their existing customer base.
---
Smart Export Tariffs: A Game Changer?
Smart export tariffs should be a game changer. It harnesses the power produced by citizens to help tackle climate change. Besides that, homes and businesses also get paid for producing clean electricity.
So, like traditional generators, the system helps to reduce the impact of old and dirty power stations, by pumping higher levels of renewable energy back into the national grid.
It also helps to bring down prices for the wider market. Households and businesses will be using cheaper power generated by local neighbourhoods.
What Happened to the Feed-in Tariffs Scheme?
In fact, the Feed-in Tariffs (FIT) scheme stopped accepting new entrants from 31st of March in 2019. The closure followed a previous consultation back in 2018.
Around 800,000 householders, with solar panels installed, were benefiting from payments under the FIT scheme. But, the government scrapped the subsidies. As a result, the number of new solar installations fell by 94% in the following month.
Apart from supporting local generation, SEG also boosts existing technologies, such as battery storage and smart meters. It helps to bridge the gap in building a smarter and more efficient energy system for future generations to come.
Storing Renewable Energy in Batteries
Positive moves made by the government are beginning to support households and businesses that store energy in batteries inside their homes.
Consumers are using smart meters to:
Track and monitor the amount of electricity they generate.
Respond to price signals in the market for demand.
Choose the best time for charging electric vehicles (EV).
Determine the most economical times to sell electricity back to the grid.
There are several benefits to this kind of system. It gives consumers more control over their energy use, it helps to reduce consumer bills, and it reduces the strain on the energy networks.
The Energy Entrepreneurs Fund
The timing of the new solar scheme could hardly have been better. The government unveiled the winners of the latest round of the Energy Entrepreneurs Fund. They awarded £686,000 in grant funding to one of the winners.
One of the fund winners is exploring further ways to boost the lifetime of lithium-ion battery packs for household energy storage. Success would help to bring down the cost of these energy storage systems for consumers.
---
New Rules for Selling Electricity Back to Energy Suppliers in United Kingdom